In May 2020 Valonia organized a social media campaign to promote electric cargo bikes as a nice and eco-friendly option for families with children. During the two-week campaign four families/communities in three cities from Southwest Finland, Naantali, Uusikaupunki and Turku, got to try out electric cargo bikes and shared their experiences in Valonia's Instagram Stories.
The message was to educate people on the wide range of bikes there are available nowadays and how electric cargo bikes are a much more realistic option for many when considering switching from car driving to cycling.
The four ambassadors who tried out the bikes had different motivational factors: Suvi from Turku, a mother of a four-year-old, was already cycling throughout the year but had not tried out an electric bike before. Kaisa, also from Turku, wanted to see how the cargo bike would replace another one of the two cars in their family of four. Kirsi from Naantali wanted to see how her 15-kilometre commute would feel like by bike. In Uusikaupunki the bike was tried out by several staff members of a local kindergarten. During the campaign also facts about the health and environmental benefits of cycling were delivered.
The catch for the residents in the three cities was to "Spot the box": the bikes had stickers that advised by-passers to send a photo of a campaign bike if they bumped into it and leave a comment telling Valonia what they would like their city to do to enhance cycling and walking. Everyone who sent the picture and comment took part in a lottery with a chance to win 300 euros to a bike store of their choosing.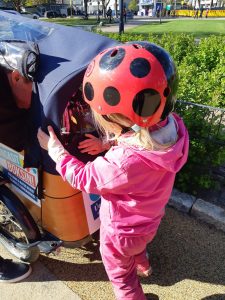 The Instagram stories based on the videos and photos of the participants were published almost everyday during the campaign. Also edited highlight videos were published as social media ads to enhance the visibility of the campaign. The ambassadors were really happy with the experiment – one of them even decided to buy the bike after the try-out period. Also the comments and feedback received in social media was positive and the campaign succeeded with broadening the mindset of at least some residents!
A video from the campaign (in Finnish only)