As part of the HEAT project team's work to promote active mobility for healthier urban communities, each of the four project locations have been planning a cycling advocacy or promotion campaign for the past year, to be carried out during the Spring of 2020.
After workshops touching on theory of change, problem/solution identification, stakeholder analysis and narrative formulation in campaign planning at the twice-annual partner meetings in May and October of 2019 the HEAT project partners were set to kick off their campaigns in the Spring of 2020.
Project partners brainstorm for their campaigns during the partner meeting in May 2019
First out was Cykelfrämjandet in Stockholm with a campaign to launch International Winter Bike to Work day in the capital region and promote year round cycling. International Bike to Work Day takes place on the second Friday of February each year, which in 2020 happened to fall on Valentine's day – a great day for lifting active mobility's benefits for heart and lung health. Cykelfrämjandet conducted a week-long social media campaign promoting year-round cycling for cardiovascular health and hosted a cyclist appreciation event on Valentines' day 2020 in Stockholm. At the event cyclists could write a Valentine's day card to the transport mayor of Stockholm, Daniel Helldén with their suggestions and wishes for how Stockholm's second "Bicycle Billion" can be spent to promote year round cycling for greater public health. These postcards and wishes were later presented and communicated to Helldén by Cykelfrämjandet.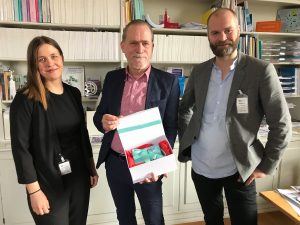 Cyclists filling out postcards with suggestions that were later presented by Cykelfrämjandet to Stockholm transport mayor Daniel Helldén.
The Estonian city of Tartu and Southwest Finland's Valonia were planning for their campaigns to begin a few weeks later in April. By then of course, the original campaign plans had to be made to fit into the context of a global pandemic. Cycling has, as has been lifted by many cities and organisations around the world, an important role to play in combating the Corona virus. Many major cities like Berlin, Paris and Milan are implementing both temporary and permanent measures to increase cycling infrastructure to get their populations moving in a healthy and socially-distanced way. In total, over 2000 km of new cycling infrastructure is planned or already implemented as a response to COVID-19, according to the European Cyclists' Federation.
While most events had to be cancelled or rescheduled in the context of the pandemic, completely cancelling cycle promotion campaigns seemed in many ways counterproductive – as long as they could be carried out in a safe way following each location's health recommendations. Valonia and the City of Tartu quickly adjusted their plans and kicked off their campaigns in May and June, respectively.
Valonia was planning for a cargo-bike promotion campaign called "Spot the Box" (to be held from April to June. For the campaign, cargo bike "ambassadors" would try out a cargo bike and document their experience on social media. Citizens could also participate in the campaign by "spotting the box" – that is, taking a picture of the cargo bike if they see it around town and posting the picutre to social media for the chance to be entered in a lottery. Additionally, Valonia also shared facts and information about cargo bikes to followers of the campaign.
Valonia's "Spot the Box" cargo bike out on adventures with its cargo bike ambassadors.
While originally planning for some public events to be held during the campaign which could not take place due to Corona restrictions, the campaign could fairly easily transition into a socially distanced and safe format as it was focused primarily on sharing information and experiences via social media – while it also actually got some people on cargo bikes. One of the ambassadors even ended up buying her own cargo bike after the campaign!
Tartu City Government also had to make some changes to their original campaign plans. The idea pre-Corona was to host activities to promote walking and cycling as healthy modes of transportation and to collect citizen feedback on the Tartu master plan in conjunction with the bicycle season opening event in the Spring. As this event was cancelled a new plan had to be developed. The city decided to instead celebrate UN World Bicycle Day on June 3rd with a series of posters in the town square lifting the positive health effects of walking and cycling as well as spreading information about work to develop the City's new walking and cycling plan. Being unable to conduct an in-person feedback campaign, the City instead promoted a Tartu master plan engagement campaign with advertisements on 600 of the city's rental bikes during the summer months of 2020, contributing to over 250 citizens responses.
Tartu city government's poster campaign in the city center launched on June 3rd – UN World Bicycle Day. Later in the summer the City used advertisements on rental bikes to get feedback from citizens.
Project partners at the Jurmala City Council who were planning a campaign promoting biking to school for children rescheduled their campaign to happen in conjunction with the start of the new school year this Autumn. The city hosted activities promoting children's cycling at the Bike Festival in Jurmala at the end of August. If you're looking for inspiration for planning your own active mobility campaign keep an eye out for the HEAT project's e-book coming out later this Autumn with tips on stakeholder engagement and campaign planning for increased walking and cycling.